SCANNX Scanner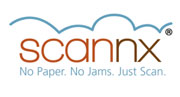 What can you scan?
Application, Forms, multi-page documents, books, journals, single sheet documents?
What are the output capabilities?
Email directly, print, save to USB device, Smart Phone, Google Drive, etc.
What formats can it be saved in?
PDF, searchable PDF, Word, JPEG,PNG, Tiff
What are its Features?
Flatbed scanner, automatic Document feeder (up to 50 pages), touch screen, book spine friendly design, USB port, eliminates curving one usually sees with conventional copiers.
[
See more about Scannx
]